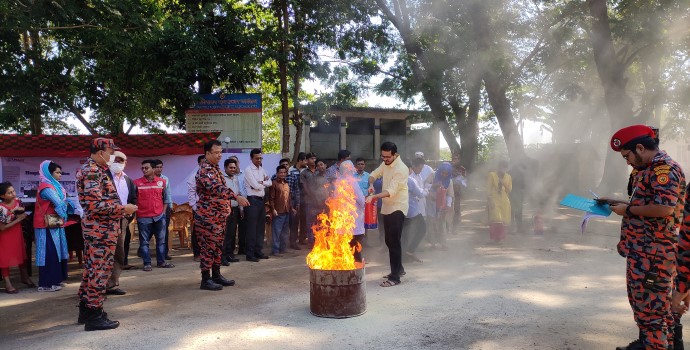 A volunteer practicing how to extinguish a fire in a controlled environment

The majority of residents in the Bandarban district of Chittagong, Bangladesh live in remote hill areas that are hard to reach during an emergency, which is why local medical facilities and emergency services must be ready for all types of hazards.
ADPC participated in a hospital simulation on 26 November to evaluate the Emergency Response Plan (ERP) it developed for Bandarban 100 Bedded Sadar Hospital. Medical staff received practical training to handle different emergency situations that health facilities experience.
The simulation was jointly organized by United States Agency for International Development (USAID) and Fire Service and Civil Defence (FSCD) of Bangladesh as part of USAID's Strengthening Earthquake Resilience in Bangladesh (SERB) initiative.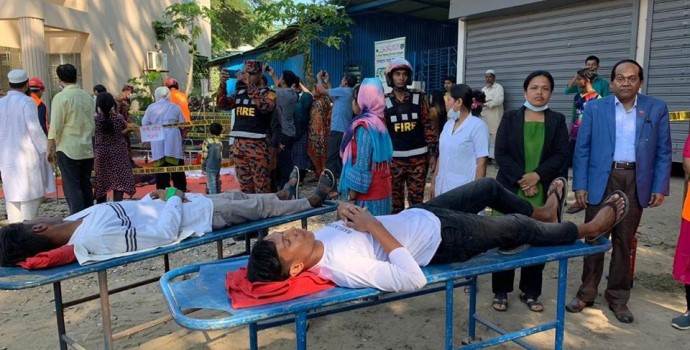 Dr. Noor Ahmed, Bangladesh Country Representative at ADPC (extreme right) overseeing the fire evacuation simulation

Dr. Aung Swe Prue Marma, Civil Surgeon at Bandarban Hospital was chief guest and inaugurated the event. 25 participants from Bandarban Hospital, Bangladesh Red Crescent Society (BDRCS), and urban volunteers attended to learn and apply their emergency response skills.
FSCD started a small controlled fire on the hospital's premises and advised hospital personnel on basic safety and evacuation procedures to follow. Participants were taught how to use fire extinguishers and how to evacuate people and patients from hospital buildings.