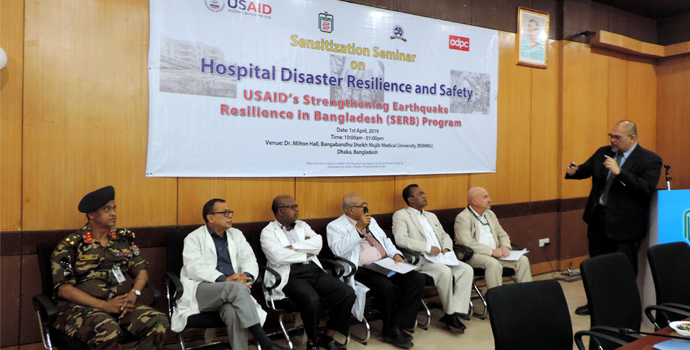 Mr. Frederick John Abo, Program Manager, ADPC, facilitates a panel discussion
Bangladesh is exposed to tremendous threats of natural and human-made disaster. In 2019, two fire incidents occurred in Dhaka and killed more than 100 people and which put hospitals and Fire Service and Civil Defence authority at the heart of emergency response. In these emergencies hospitals play a vital role and it is really important to respond in an efficient manner to minimize the loss after disaster. It is crucial people become more familiarized with preparedness measures in order to build their resilience to disasters.
With this in mind, a sensitization seminar on 'Hospital Disaster Resilience and Safety' was arranged on April 1 2019, to familiarize the health professionals about the risks of public hospitals in any kind of emergencies and better preparedness with a vision to ensure a safer hospital.
Mr. Frederick John Abo gives a keynote presentation at the seminar
A total of 42 participants including doctors and nurses from Dhaka Medical College, Shaheed Suhrawardy Medical College Hospital, Sarkari Karmachari Hospital and Bangabandhu Sheikh Mujib Medical University, development partners, representative from WHO, instructors and trainees from HOPE training attended the seminar.
Professor Dr. Kanak Kanti Barua, Honorable Vice Chancellor, BSMMU was the Chief Guest. Professor Dr. Md. Shahidullah Sikder, Pro Vice Chancellor (Research & Development), BSMMU and Mr. Paul Mason, Director, Office of Food, Disaster and Humanitarian Assistance, USAID Bangladesh were present as Special Guest and Guest of Honor respectively. Professor Dr. Baizid Khoorshid Riaz, Director, NIPSOM was the Chairperson of the event.
The seminar was hosted under the Strengthening Earthquake Resilience in Bangladesh (SERB) project in collaboration with National Institute of Preventive and Social Medicine (NIPSOM), with support from USAID, Bangladesh.