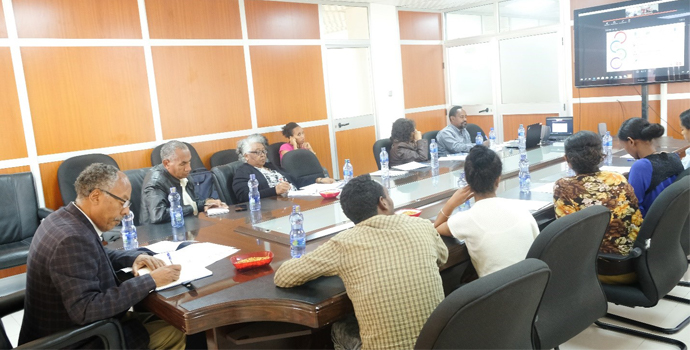 Participants discussing the project background, framework and key approaches during the orientation meeting
Ethiopia has been affected by conflicts in various regional states resulting in over 2.8 million people being internally displaced. In addition to which 7.9 million people affected by the recent prolonged droughts.
Asian Disaster Preparedness Center (ADPC) is assisting in strengthening the National Disaster Risk Management Commission (NDRMC), Ethiopia, efforts in response operations by providing specific humanitarian response and recovery support; strengthening the capacity of national and regional emergency operations centers (EOCs); and documenting good practices and lessons learned throughout the response, rehabilitation and recovery processes.
During an orientation meeting, on 15 March, 2019, 14 participants discussed a common understanding of the project approaches, key components, beneficiaries, roles and responsibilities of the involved stakeholders and collectively reviewed and endorsed the details of the action plan.
The program is aiming to strengthen the emergency response, rehabilitation and early recovery efforts of the NDRMC in managing the current complex emergency in Oromia, SNNP and Somalia regions of Ethiopia.To alleviate the suffering of Internally Displaced Persons (IDPs) and accelerate the rehabilitation and recovery process, ADPC is facilitating distribution of non-food relief items such as blankets, utensils, water collection and storage equipment, etc. so that returnees can effectively undertake in early recovery and rehabilitation processes by providing necessary household items.
Mr. Sisira Madrapperuma, Director to Preparedness for Response and Recovery, ADPC, discussed the ways the current project builds on established partnerships between ADPC and the NDRMC. He further highlighted the program's support of an existing internship program, crucial to bringing in a new way of disaster risk management (DRM) professionals who will take the responsibility of building a disaster resilient Ethiopia.
The Advancement of Recovery Initiatives for Safer Ethiopia (ARISE) project is implemented with support from Bill & Melinda Gates Foundation.