By Vidya Rana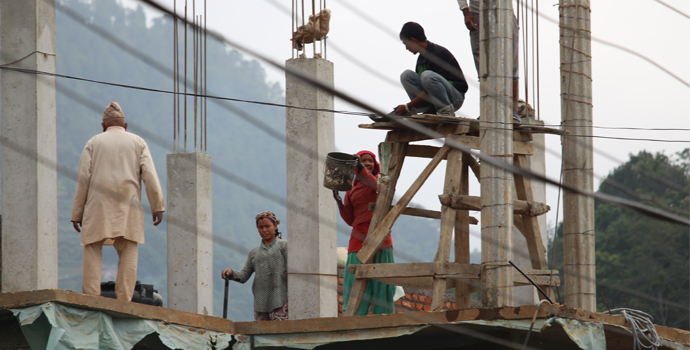 Construction workers rebuilding homes damaged in the 2015 earthquake
As you stroll through the Balthali village ─ located at the confluence of Roshi and Ladku rivers in the mountains of Kavre district, Nepal ─ half-built mud walls and under-construction brick houses send a fierce reminder of the earthquake that jolted the picturesque country in 2015.
The earthquake caused over 8,000 deaths and injured more than 100,000 people due to the failure of infrastructure to absorb a shock of 7.8 on the Richter scale. Balthali also suffered widespread losses.
Nepal is susceptible to earthquake, flood, landslide, avalanches, Glacial Lake Outburst Flood (GLOF), drought, and forest fire, among other hazards. A combination of these hazards poses a grave threat to the national economy and development of the country.
Asian Disaster Preparedness Center (ADPC) has been working with the Government of Nepal for decades. It has supported her in carrying out scientific studies on disaster risks and the economic impact of disasters on the country's development. "As an intergovernmental organization, we work through governments helping them exchange experience, expertise, and technology to deal with local and transboundary hazards," says Mr. Hans Guttman, Executive Director of ADPC.
"ADPC developed a multi-hazard risk map for Nepal in 2010, which provided an analysis of the risk assessments as well as necessary interventions for disaster risk reduction. This has led to an analysis of the country's economic capacity to deal with impending disasters," Hans highlighted.
Nepal is also a member of the Regional Consultative Committee on Disaster Management (RCC) ─ a regional mechanism to promote peer advocacy and exchange of expertise in disaster and climate risk management. Established in 2000, it is comprised of the National Disaster Management Office (NDMOs) of member countries. Co-hosted by the Ministry of Home Affairs (MoHA), Government of Nepal, the 14th RCC meeting was held in Kathmandu on 3 – 5 December 2018.
Addressing the RCC delegates, Rt. Hon'ble K. P. Sharma Oli, Prime Minister, Government of Nepal said that in the aftermath of Nepal earthquake the country has devised different coping mechanisms, created institutions, strengthened and streamlined legal and policy frameworks for building resilience against disasters.
"With a longer-term vision of disaster risk reduction and preparedness in mind, the Government of Nepal is fully committed to the implementation of the national action plan and Sendai Framework for Disaster Risk Reduction and its four priorities and seven targets," he assured.

Nepal is working on different fronts to substantially reduce disaster and climate-related mortality rate in the country which is also a key target of the Sendai Framework to be achieved by 2030.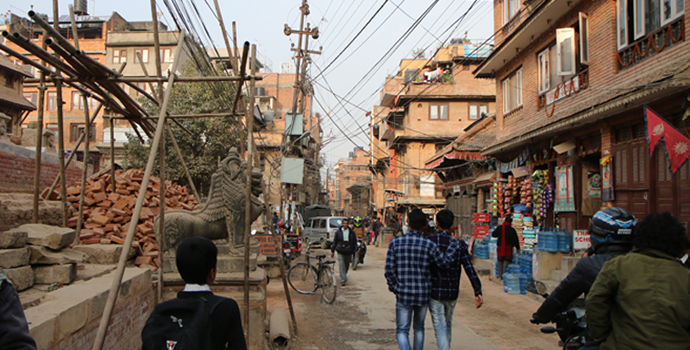 Buildings, damaged by the 2015 earthquake, remain unbuilt in Kathmandu
Scaling up its efforts, Nepal has recently enacted new disaster risk reduction and management Act and created National Disaster Management Policy and Strategic Action Plan (2018-2030). The Government is also in the process of establishing a National Disaster Risk Management Authority to lead disaster risk reduction and management activities in the country.
Through different initiatives by ADPC, villages like Balthali will receive increasing support to enhance the level of preparedness of communities for a swift and local-level response.
To localize emergency response, ADPC has established Nepal Preparedness Partnership — a joint collaboration of the Ministry of Home Affairs, local humanitarian response networks, and the private sector ─ with support from Bill & Melinda Gates Foundations. Through this partnership, Nepal is connected to five other Asian countries with an overall objective of strengthening the emergency response capacity of local humanitarian actors in Asia, under the umbrella of the Asian Preparedness Partnership (APP).
In order to support Nepal in building its climate resilience, ADPC is working to protect development gains and to enhance regional cooperation on inclusive and gender-equal risk reduction approaches. The initiative will establish evidence-based methods, tools, and practices for building the resilience of Nepal over the next five years.
To engage media in building resilience, ADPC organized training for Nepali journalists on Reporting on Disaster Mitigation and Preparedness (RedMap) in Balthali to discuss how media can help communities prepare better for future disasters.