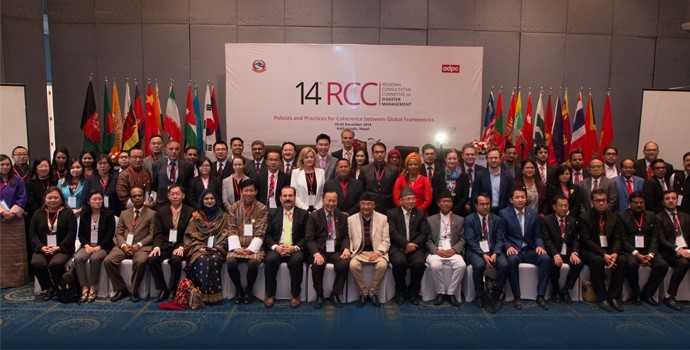 Delegates pose for a group picture
The Regional Consultative Committee on Disaster Management (RCC) calls for practical coherence solutions and tools for reducing disasters in Asia and the Pacific during its 14th meeting that was held on 3-5 December in Kathmandu, Nepal. It also emphasized on enhancing coherence between key global frameworks for sustainable development and disaster resilience.
The meeting was concluded on 5 December with the adoption of the Kathmandu Statement which calls for enhancing coherence across policies, institutions, goals, indicators, and monitoring systems for implementing key global frameworks for disaster risk reduction and sustainable development, particularly the Sendai Framework for Disaster Risk Reduction (SFDRR), the Agenda 2030 for Sustainable Development, the Paris Agreement on Climate Change, the Agenda for Humanity, and the New Urban Agenda.
The participant agreed that technical support should be provided to RCC member countries to enable coherence in the implementation of relevant policies, plans, and practices as outlined in key global frameworks ensuring gender-equal, pro-poor, rights-based, and inclusive approaches.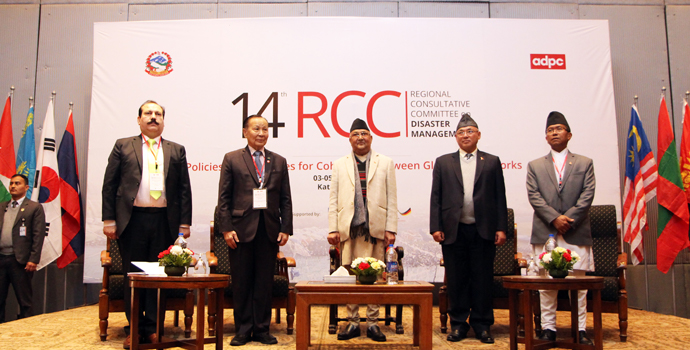 Left to right: Mr. Muhammad Idrees, Member of Disaster Risk Reduction, National Disaster Management Authority of Pakistan; Dr. Krasae Chanawongse, Chairman, ADPC; Rt. Honorable Prime Minister K. P. Sharma Oli, Prime Minster of Nepal; Hon'ble Ram Bahadur Thapa, Home Minister, Government of Nepal; and Mr. Prem Kumar Rai, Secretary, Ministry of Home Affairs, deliver their speeches during the opening ceremony
The RCC was opened on 3 December by the Rt. Honorable Prime Minister of Nepal K. P. Sharma Oli in Kathmandu with over 200 people including representatives of 18 countries in Asia and the Pacific in attendance for the Opening Ceremony. The three-day meeting was co-hosted by the Ministry of Home Affairs (MoHA), together with Asian Disaster Preparedness Center (ADPC).

In his opening remarks, the Prime Minister of Nepal emphasized on building resilience of communities, taking collective actions, and learning from past lessons to better prepare for the future.
"In our own experience, geologists and experts had vaguely warned us about the possibility of major disaster in the Himalayan region. Yet the earthquake of 2015 struck us when we were not fully prepared," he said. "Learning from the past lessons and experiences as well as from the experiences of other countries, the Government of Nepal has made sincere efforts both in the post-earthquake reconstruction as well as in building of the communities' resilience to the potential future risks," the Prime Minster remarked. He emphasized that sustained local, national, regional and international efforts with adequate resource-backing are essential to realize international commitment as outlined in the Sendai Framework.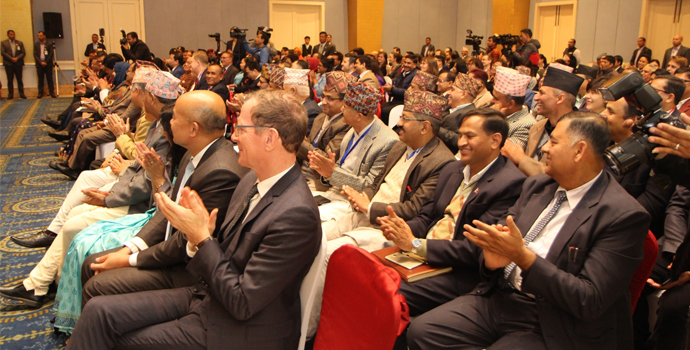 Over 200 people, including representatives of the 18 member countries participating this year, attend the opening ceremony

During the opening ceremony, ADPC's Chairman Prof. Dr. Krasae Chanawongse urged the delegates and other stakeholders to combine their efforts for achieving resilience to disasters. He said that it is unlikely to prevent the occurrence of a disaster but people can be better prepared. "Mitigating the impacts and minimizing the damages are possible if we are aware of the underlying causes that expose our societies to the risks of disasters and climate change," he said.
During the three-day meeting, the participants shared progress on the status of coherent implementation of key global frameworks particularly on SFDRR and Sustainable Development Goals (SDGs), exchanged experiences, discussed challenges, and explored practical approaches and options to further improve mainstreaming, harmonization, localization, and alignment.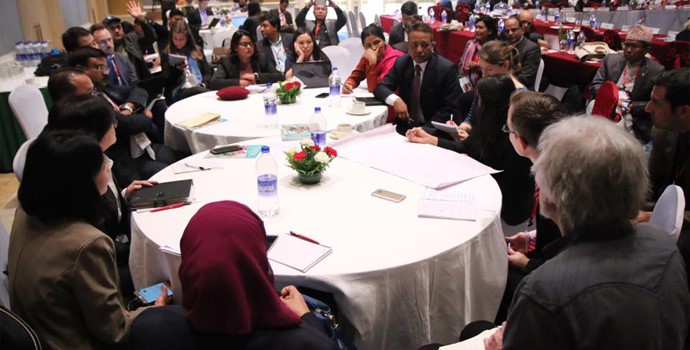 RCC member countries agreed on enhancing coherence across policies, institutions, goals, indicators and monitoring systems for implementing key global frameworks
The participants agreed that development partners should support and invest in regional efforts for achieving practical coherence among key global frameworks, including through the initiation of peer-to-peer learning, documentation of good practices based on priorities identified by RCC member countries.
The member countries agreed on following-up on the commitments made at the 2018 Asian Ministerial Conference on Disaster Risk Reduction (AMCDRR) held in Ulaanbaatar, Mongolia, and RCC's future contribution to the 2019 Global Platform on Disaster risk reduction to be held in Geneva in May.
Kathmandu Statement also called for encouraging the RCC member countries to actively promote women leadership in DRR and CCA including women's representation at the RCC and other regional and global fora.
To download the Kathmandu Statement, click here.