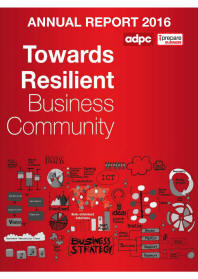 iPrepare Business Annual Report 2016:
Towards Resilient Business Community
Published on: 07/04/2017
Language: English
Author(s):
Department: Disaster Risk Management System
Type: Annual Reports
File size: 1.67 MB
Publication Overview/Description
This annual progress report summarizes all the initiatives undertaken by the iPrepare Business facility of ADPC in 2016. The facility has been supported by many organizations such as Asian Development Bank (ADB), Deutsche Gesellschaft f2r Internationale Zusammenarbeit (GIZ) and Japan International Cooperation Agency (JICA). We have also cooperated with many partners from the public and private sectors including both large, particularly Isuzu Motors CO., (Thailand) LTD. and SMEs and development partners in the region and beyond.