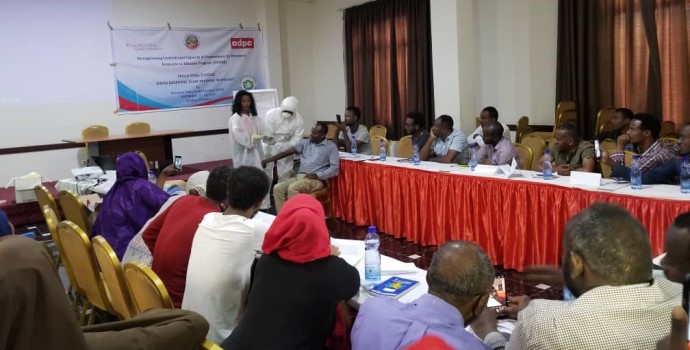 Participants demonstrating how to check for Ebola symptoms

Various emergencies in Ethiopia require swift communication and response from national level down to the district level. It is therefore essential to have a quickly deployable team with the necessary skills available to deal with specific crises as they unfold.
ADPC conducted training for Ebola Viral Disease (EVD) rapid response teams with the Ethiopia Public Health Institute on 11-18 November. The training was part of ADPC's Advancement of Recovery Initiatives for Safer Ethiopia (ARISE) project with support from the Bill & Melinda Gates Foundation.

45 participants comprising of Public Health Emergency Management (PHEM) officers, medical doctors, clinicians, laboratory technicians and environmental health experts from Oromia and Somali regions attended.

Ethiopia's current level of preparedness to EVD was analyzed and participants held an in-depth discussion on passenger screening, EVD surveillance and outbreak investigation. Participants also reviewed occupational safety and health, the use of personal protective equipment and safe and dignified burials of casualties.

Emergency risk communication and community engagement procedures were presented, and there was a field visit to the Ebola treatment unit in Addis Ababa Bole International Airport.