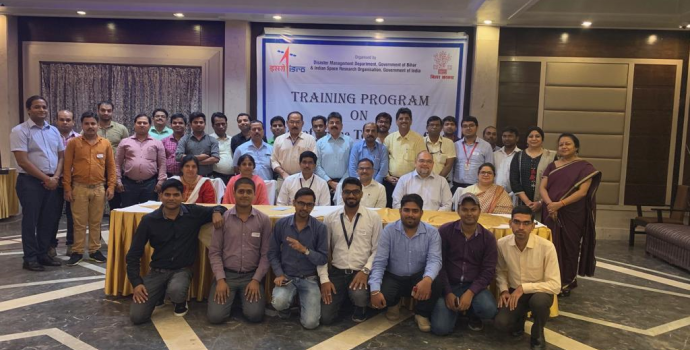 Training participants pose for a group photo after learning how to convert virtual satellite data into a concrete disaster response

ADPC conducted a two-day training on using space technology for disaster management on 16 and 17 September, followed by a workshop to design a Hazard Risk Vulnerability Assessment (HRVA) framework on 19 and 20 September in Bihar, India.
85 participants working in emergency operation centers learned how to recognize emergency weather alerts to issue a quick and timely disaster response and use previous satellite data to create an efficient disaster planning.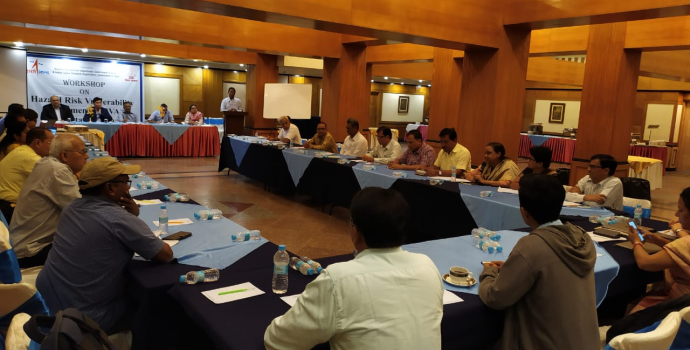 Bihar government officials from all types of sectors came together to discuss a unified research approach.

In the next workshop, ADPC's Director Dr. Peeranan Towashiraporn joined discussions to clarify the most critical research data and appropriate methodology required to initiate the State of Bihar's HRVA.
Bihar Government officials from a wide range of departments like Agriculture to Water Resources came together to adopt a uniform approach for sharing baseline data and information and communicating risk information.
Both events were organized as part of ADPC's Program for Strengthening Preparedness for Emergency Response and Recovery in India (PROSPER-India) by the Department of Disaster Management (DDM), Government of Bihar and Indian Space Research Organization (ISRO).