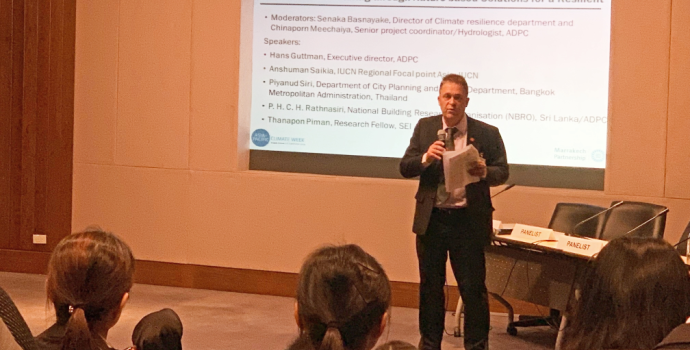 Mr. Hans Guttman, Executive Director, ADPC speaks about stepping up action for a disaster resilient future

Asian Disaster Preparedness Center (ADPC) participated in Asia-Pacific Climate Week (APCW) 2019 to advance regional climate action. ADPC co-organized a discussion on coherence between various frameworks for disaster management and climate resilience as well as led a session on innovative approaches to strengthen local-level early warning systems.
ADPC organized a break-out group discussion on "Coherence in adaptation plans and disaster risk reduction strategies" in collaboration with the United Nation Office for Disaster Risk Reduction (UNDRR).
The session discussed how coherence between Climate Change Adaptation (CCA), Disaster Risk Reduction (DRR) and Sustainable Development Goals (SDGs) is being strengthened at different levels. It further explored opportunities for integration of CCA strategies and DRR policies through peer-to-peer learning and exchange at country-level in Asia and the Pacific.
The participants explored key elements of the Sendai Framework and the Paris Climate Agreement to building coherence on climate adaptive DRR policy formulation and implementation. In addition, they deliberated on different governance mechanisms, tools and methodologies that could be used to enhance coherence between different policies at all levels. The roles and responsibilities of international, regional, national and local level actors for integrating DRR and adaptation plans are very important. Participants discussed it at length in order to develop key messages for UNDRR.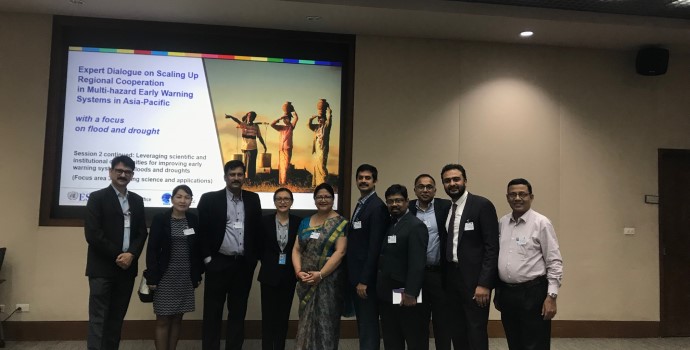 ADPC representatives led an additional session with a special focus on flood and droughts in the region
ADPC also led a session that discussed innovative approaches to strengthen local-level early warning systems and their role in rapid decision-making to mitigate the impacts of flood and drought. The session was a part of an Expert Dialogue on scaling up 'Multi-Hazard Early Warning Systems in the Asia-Pacific' organized by UNESCAP and partners on 26-27 August.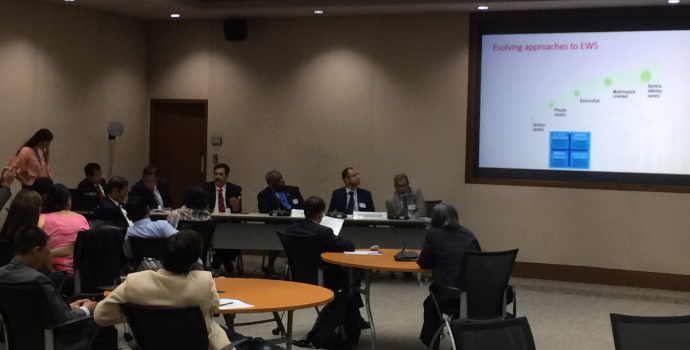 ADPC representatives explaining how the approach to early-warning systems evolves based on the types of disasters experienced

ADPC provided inputs to the expert dialogue on scaling up regional cooperation in multi-hazard early warning systems in the Asia-Pacific focused on flood and drought.
APCW 2019 was designed to advance regional climate action as a stepping-stone to the upcoming Climate Action Summit in New York held on 23 - 24 September 2019.