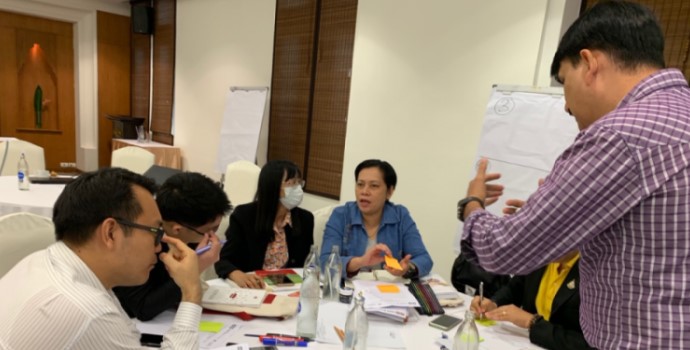 Participants discussing agricultural flood management

Officials from agriculture, water resource and disaster management sectors shared different techniques to protect the livelihoods of farmers during floods. They shared their experiences in a workshop organized by Asian Disaster Preparedness (ADPC) in September.
The workshop on "Developing Climate-Inclusive Potential Loss and Damage Assessment Methodology for Flood Hazards" was attended by 10 government officials. The event was a part of a project to promote climate-smart disaster risk reduction (DRR) interventions in the agriculture sector against flood hazards in three countries.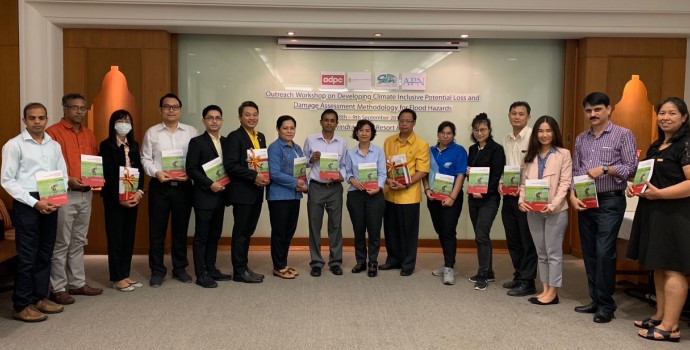 Participants pose for a group photo

Climate-smart DRR interventions have been developed under a project being implemented by ADPC in three countries and funded by Asia–Pacific Network for Global Change Research in Japan.
Thailand is one of the project countries and has made significant progress in the area of climate-adaptive DRR.
In addition, ADPC shared the project outcome. A Report and a Guidebook for Practitioners titled "Climate Smart Disaster Risk Reduction Interventions in Agriculture Sector – Flood Hazard" prepared under the project was also released during the workshop.