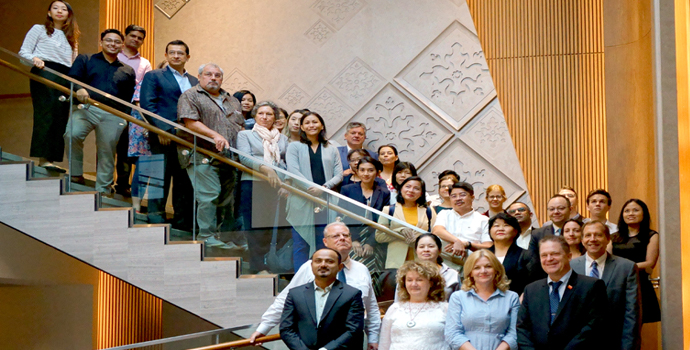 Participants pose for a group picture
Asian Disaster Preparedness Center (ADPC) hosted a first-of-its-kind MediaLogue on 25 July in Bangkok, Thailand. The high-level dialogue on "Engaging Media in Disaster Risk Communication" was attended by media outlets, UN agencies, international organizations, and other partners who shared experiences, challenges, and opportunities for media engagement in disaster risk reduction (DRR).

The MediaLogue was co-organized by ADPC and Asia-Pacific Broadcasting Union (ABU) with support from United Nations Office for Disaster Risk Reduction (UNDRR).

Referring to the risk communication as a critical part of reducing disaster losses, Mr. Hans Guttman, Executive Director, ADPC, said that media plays a greater role in shaping the mindset of society towards proactive, rather than a reactive approach to deal with disasters.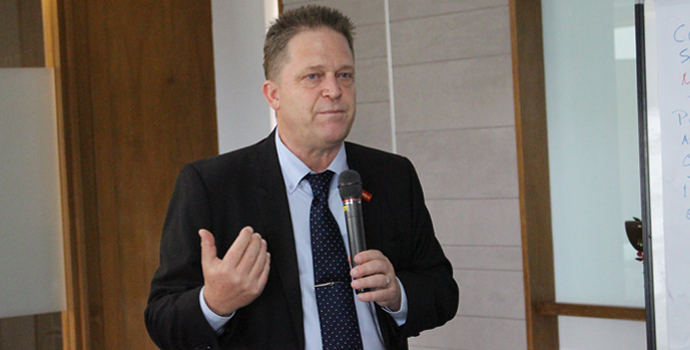 Mr. Hans Guttman, Executive Director, ADPC, discusses the need to engage media in the DRR process

Mr. "We can engage media by training reporters to have a better understanding of disasters as a social issue but this will require the recognition of media as a central stakeholder through a call for closer engagement between development partners and media," he said.

In her keynote speech, Ms. Loretta Hieber Girardet, Chief of the Regional Office for Asia and the Pacific, UNDRR, said disasters are a form of injustice and a human rights issue that deserves media attention. "Media is a key player in supporting better preparedness and early action by bridging the last mile of communication when it comes to early warning and impending disasters," she said. "Partnerships between hazard warning agencies media organizations are critical to ensure early action is taken," she added.

Ms. Sayanaa Lkhagvasuren, Senior adviser and Chief of staff to Deputy Prime Minister of Mongolia, Government of Mongolia presented a case study on a partnership between the government of Mongolia, ADPC, UNDRR and Thai PBS to build the capacity of Mongolian journalists on RedMap.

RedMap was recognized as a "winning formula"─in the statement of media stakeholders presented at the 2018 Asian Ministerial Conference for Disaster Risk Reduction (AMCDRR)─for strengthening journalists' capacity on pre-disaster reporting through a multi-stakeholder partnership.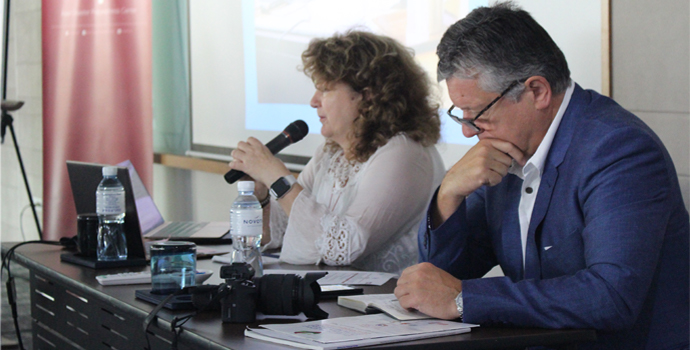 Ms. Natalia Ilieva, Head of Secretary-General's Office, ABU, and Mr. Russell Isaac, Suport Media Services, discuss mainstreaming DRR in media organizations
The MediaLogue was guided by a session on mainstreaming Disaster Risk Reduction (DRR) in media organizations by Asia-Pacific Broadcasting Union. ABU representatives highlighted that despite many summits taking up the declaration to strengthen the role of media in DRR, there has yet to be a pragmatic move towards addressing this gap.

Following two working group discussions, participants suggested different ways to engage with media including establishing a platform or network to strengthen synergies between media and DRR practitioners in the region.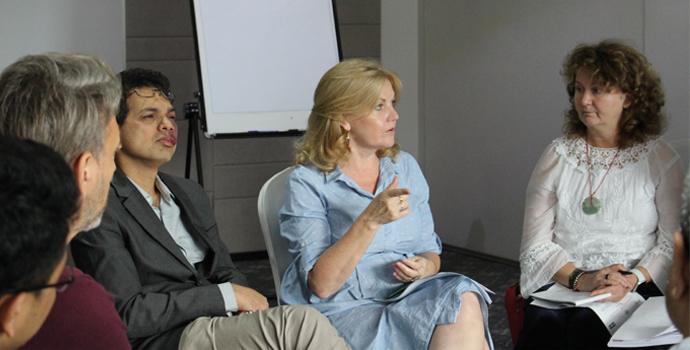 Ms. Loretta Hieber Girardet, Chief, UNDRR, guides working group discussions

The working group discussions indicated an agreement among all participants that immediate action should be taken to organize a follow-up meeting to further refine discussions and outline an approach to establishing an informal network between media agencies and DRR stakeholders. Participants suggested a mapping exercise and needs assessment to identify current efforts in the region and highlight gaps that will be used to design a sustainable mechanism.

A total of 26 organizations and 43 individuals participated in the Medialogue, of which 11 organizations - including UNDRR, ADPC, ABU, Government of Mongolia, USAID/OFDA, IFRC, BBC Media Action, Nepal TV, Thai PBS, World Association of Community Radio Broadcasters (AMARC) and the New Humanitarian - presented their work related to disaster risk communication.