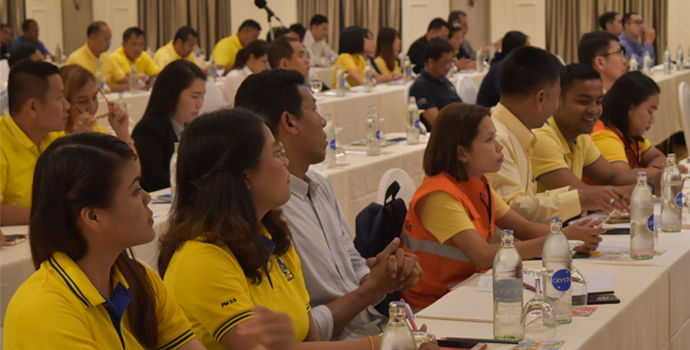 Participants are given an overview of how to use the Quick Risk Estimation tool
ADPC trained 100 participants in using a Quick Risk Estimation (QRE) tool that was developed by the United Nations Office for Disaster Risk Reduction (UNDRR) to identify and understand current as well as future risks that human and physical assets face. The tool contains hazard indicators that are aligned with the 10 Essentials for Making Cities Resilient Scorecard in the context of the Sendai Framework for Disaster Risk Reduction 2015 – 2030 (SFDRR) and the Sustainable Development Goals (SDGs). The majority of participants were drawn from private sector organizations, particularly tourism and small and medium-sized (SMEs) sectors.
The tools were introduced during a seminar on "Understanding Disaster Risk Environment for Business Resilience" held in Thailand on 23 May, 2019. People from private and various other sectors to share their knowledge and good practices on how they have engaged in disaster risk reduction (DRR) and business resilience in Thailand.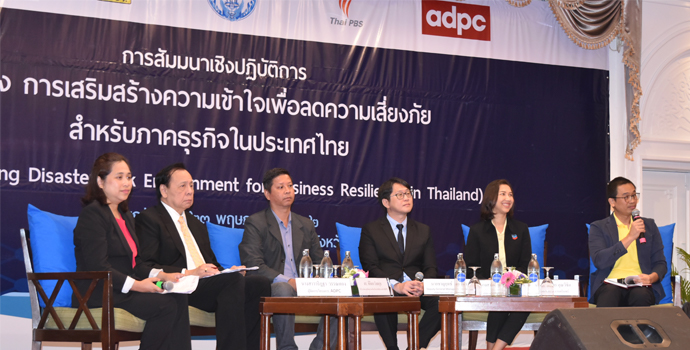 Dr. Bhichit Rattakul, Special Advisor, ADPC, participates in a panel discussion the role of businesses in reducing disaster risk in Thailand
Dr. Bhichit Rattakul, Special Advisor, ADPC, participated in a panel discussion on the role of businesses in reducing disaster risk in Thailand. During his keynote speech, he encouraged participants to learn about the risk of disasters to their community and identify tools that can be used to build business resilience. He further discussed the importance of ensuring the risks and tools are translated into a Business Continuity Plan (BCP) to enable businesses to mitigate risks and continue their business operations during disasters.
Representatives from Isuzu Motors Co., (Thailand) Ltd., Khaolak Laguna Resort; and Aviation Center, Chevron Thailand Exploration and Production Ltd., also shared their experiences and perspectives on how private sector organizations of varying scales could enhance their resilience to disasters. The session was jointly moderated by Asst. Prof. Dr. Somporn Khunwishit, Faculty of Management Sciences, Prince of Songkla University, and Ms. Warittha Wannathong, Project Manager, ADPC.
Mr. Supoj Rodruang Na Nong Khai, Deputy Governor, Phuket, gave an opening speech and gave an overview of Phuket's past experiences with different hazards.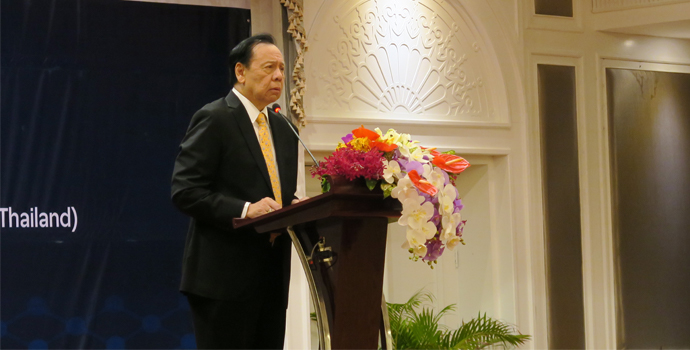 Dr. Bhichit Rattakul, Special Advisor, ADPC, gives a keynote speech

Iria Touzon Calle, Risk knowledge and analysis Programme Officer, UNDRR also participated in the Seminar. Referring to the Sendai Framework for disaster risk reduction, she said it emphasizes that disaster risk management is a shared responsibility of all actors and stakeholders. "By investing in risk management strategies you can protect yourselves, your staff and your investments," Iria stated in her speech.

The seminar was hosted in collaboration with the Phuket Provincial Administration Organization (PPAO), the Department of Disaster Prevention and Mitigation (DDPM), Phuket, and the Thai Public Broadcasting Services (Thai PBS), with support from UNDRR.