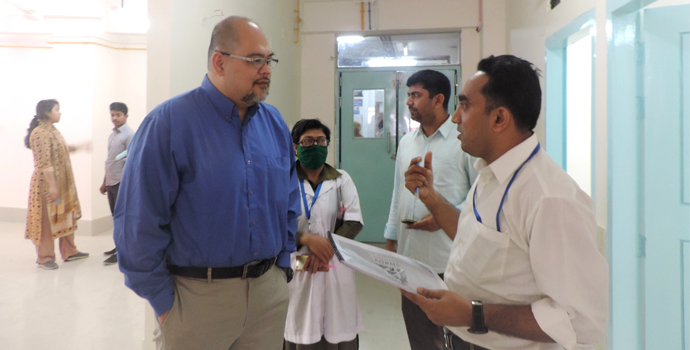 Mr. Frederick John Abo, Program Manager, ADPC, discussing with participants
The workshop gathered 17 medical practitioner and representatives from different department of the hospital including graduates from ADPC's Hospital Preparedness for Emergencies (HOPE) and Hospital Incident Command System (HICS) courses. The workshop was based on using the Hospital Safety Index, established by World Health Organization (WHO) and Pan American Health Organization (PAHO).
The index looks into the structural and non-structural attributes of a hospital in order to assess the degree to which it will be able to withstand the impacts and respond to major emergencies and/or disasters. Hospitals are encouraged to calculate their health facility using the safety index in order to establish priority areas for reducing the risk or vulnerabilities in the healthcare facilities.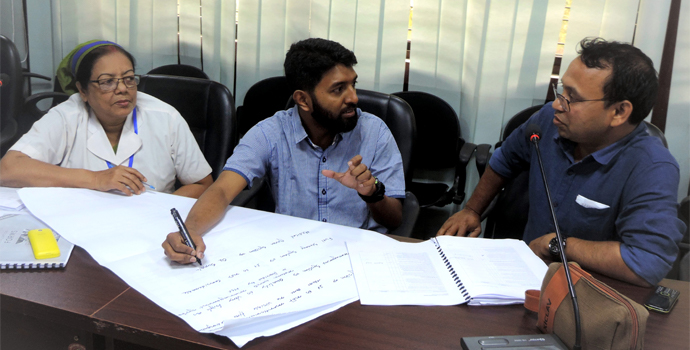 Participants discuss ways to operationalize an assessment by using the Safety Index

Dr. Noor Ahmed, Country Representative, ADPC, shared an introduction USAID's Strengthening Earthquake Resilience in Bangladesh (SERB) project. Mr. Frederick John Abo, Program Manager, Preparedness for Response & Recovery Department, ADPC, shared the significance of the workshop and also explained idea of hospital risk assessment and safety index, including how to operationalize an assessment by using the index. Mr. Golam Kabir, Consultant, ADPC, facilitated the workshop and assessment process.
The workshop was inaugurated by Dr. Bidhan Paul, Superintendent (Acting), 250 Bed District Sadar Hospital, Cox's Bazar. In his opening speech he mentioned the importance of Hospital Risk Assessment workshop to raise awareness for future improvement of the hospital.
At the end of the workshop, all groups presented their findings and Mr. Frederick John Abo concluded the workshop by facilitating a plenary discussion and thanking all participants and Hospital management for giving their cordial effort to make the workshop successful.