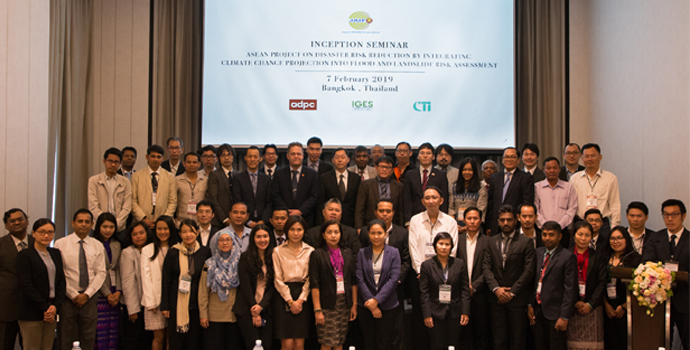 Participants pose for a group picture
As the number of climate change-related disasters occurring in ASEAN Member States has been increasing over the past several decades, while populations residing in hazard-prone areas continues to grow, increasing measures are required to address the current and future risks these populations face.

Recent climate projections indicate increasingly severe consequences in terms of the intensification of disasters in the region. As a result of this direct effect of climate change on disasters, it is necessary to link disaster risk reduction (DRR) and climate change adaptation (CCA). Such links can be formed when hazard and risk assessments are integrated with future climate projections. This allows stakeholders engaged in DRR, and other developmental planning domains, to consider appropriate solutions to address future risks.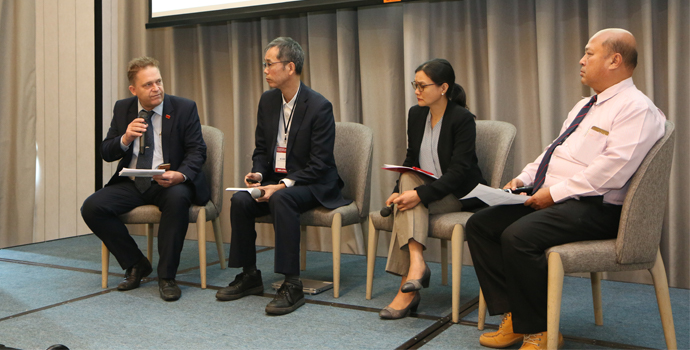 Mr. Hans Guttman, ADPC's Executive Director, participated in a panel discussion on Application of Information and Communication Technology
ADPC, with support from partners, has come together to conduct risk assessments and future climate projections to better understand and implement appropriate solutions for addressing climate change and disaster risks. The program aims to equip ASEAN Member States (AMSs) with the tools and techniques to enhance their decision-making capacity on disaster risk assessment. This will ensure they are better equipped with appropriate solutions to address future risks.

The 7th Regional Workshop on the ASEAN Project on Disaster Risk Reduction by Integrating Climate Change Projection into Flood and Landslide Risk Assessment, conducted in February, is an important milestone for the 20-month project. This workshop served as an enriching forum for experts and participants to exchange needs and expectations as the AMSs work towards building resilience. "It is a good forum because it has moved along the path of addressing disaster risk reduction in an increasingly comprehensive way," Mr. Hans Guttman, ADPC's Executive Director, stated during his opening remarks.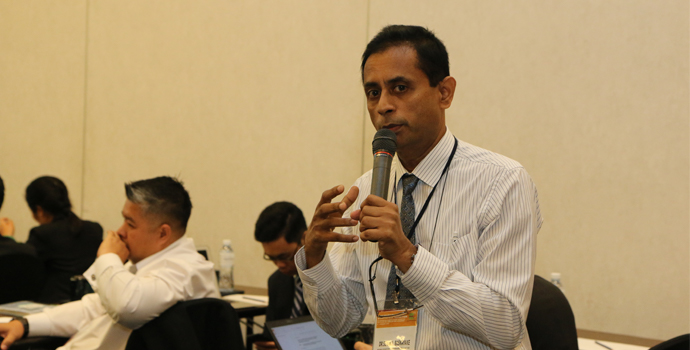 Dr. Senaka Basnayake, ADPC's Climate Resilience Director, addressed participants questions

During the workshop, participants expressed the current, persisting challenge for many countries in addressing the unavailability and scattering of data. In addressing this, the project will aim to bring together information hubs across sectors at all levels to develop an interconnected system of information sharing across AMSs. The workshop also offered recognition to the increasing opportunities to using different types of data as well as the expanding technological capabilities to process more data.
The Disaster Risk Reduction by Integrating Climate Change Projections into Flood and Landslide Risk Assessment program is implemented in collaboration with the ACDM Working Group on Prevention and Mitigation, the Institute for Global Environment Strategies and CTI Engineering International, with support from the Government of Japan through JAIF.