By Vidya Rana and Moumita Sen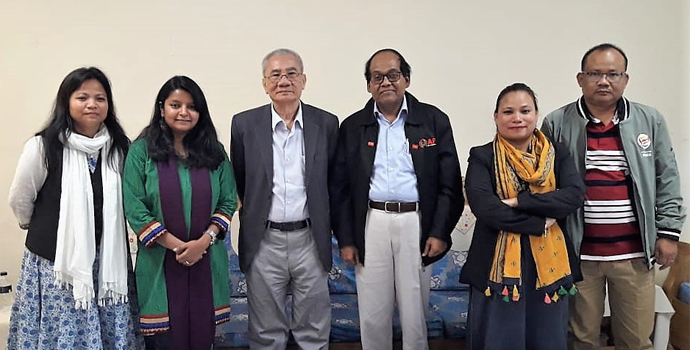 Meeting attendants pose for a group picture
Over recent decades, Bangladesh has experienced heavy monsoon rain across the country. In 2017 a devastating downpour triggered a series of landslides and floods in Rangamati, Chittagong and Bandarban─three hilly districts in Chittagong─killing at least 152 people. Rangamati hill district was worst affected with at least 20 landslides and 99 deaths.
The majority of the population in Bandarban and Rangamati are an ethnic minority or tribal groups who live in remote hilly areas that are hard to access during an emergency. Their makeshift homes situated at unsafe locations also expose them to the risk of landslide and flash flood.
Localization of emergency response can help in reducing the loss of life, especially in the aftermath of a small-scale disaster in remote areas.
To create a trained cadre of volunteers at the community level, Asian Disaster Preparedness Center (ADPC) has been working with disaster management and climate change related government agencies of Bangladesh since 2013. ADPC's initiative Strengthening Earthquake Resilience in Bangladesh (SERB)  helped Fire Service and Civil Defense Department in training over 1400 urban community volunteers on search and rescue, firefighting and first aid techniques. These volunteers now are able to server as frontline first responders and help professional search & rescue forces during an operation.
Under the second component of SERB, ADPC trained hospital in conducting hospital risk assessments, managing mass casualty incidents and establishing hospital emergency response plans. In 2016, these hospital risk assessments benefitted 16 hospitals in six municipalities─Dhaka, Chittagong, Sylhet, Gazipur, Mymensingh and Tangail. Another seven hospitals developed emergency response plans to manage disasters under this initiative.
Building on the past experience, ADPC is planning to train volunteers in Rangamati, Chittagong and Bandarban districts to respond to an emergency triggered by a landslide, flood, and fire incident.  As previously, the current phase of the SERB project will be supported by USAID. It will be implemented in collaboration the Chittagong Hill Tracts Regional Council (CHRTC).
ADPC recently held a meeting with the Chairman of the CHTRC, Mr. Jyotirindra Bodhipriya Larma,  to discuss the benefits and impact of the SERB program on local communities.
Mr. Larma also represents Parbatya Chattagram Jana Samhati Samiti (PCJSS)─a  political organization of the indigenous tribal people of the Chittagong Hill Tracts (CHT). CHTRC started its functions in 1999 after PCJSS entered into an agreement with the Government of Peoples' Republic of Bangladesh followed by the enactment of Chittagong Hill Tracts Regional Council Act 1998.
To ensure the sustainability of the initiative, Mr. Larma suggested involving local humanitarian response organizations in promoting the localization of the emergency response.