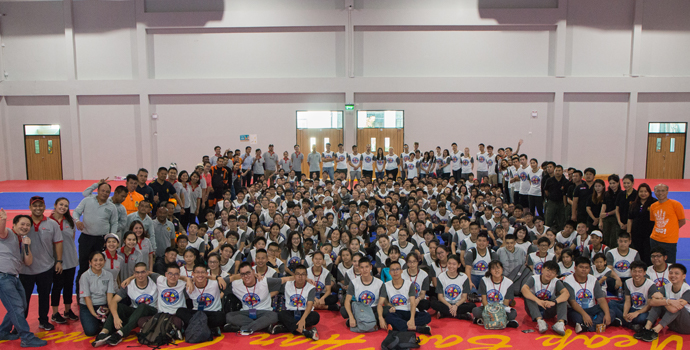 Students and teachers pose for a picture alongside ADPC staff and participating organizations
Over 200 students from Anglo-Singapore International School rotated between 10 stations to learn emergency preparedness and disaster mitigation methods – including putting our fires using extinguishers, transporting injured persons, rescuing a drowning person and packing a 72 hour survival kit in case of emergencies – during the "Know Disaster, No Disaster" camp, at the Nakhon Ratchasima campus.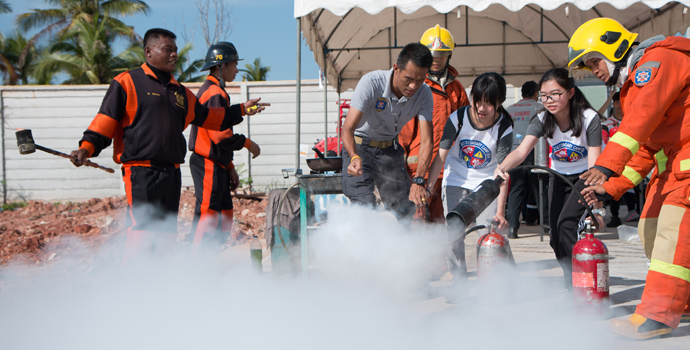 Students learning to put out fires using extinguishers
The skills learnt between stations were later tested in the evening during a fire evacuation simulation. As the fire alarm rang, students quickly evacuated their school building to the meeting point and carried "injured" classmates and teachers to the simulated shelter.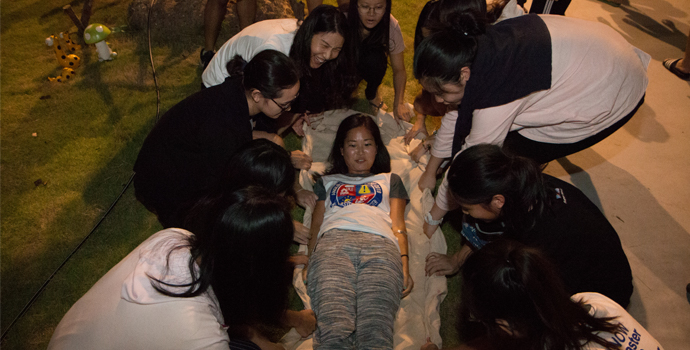 Students use the skills their learned to transport an "injured" teacher to the simulated shelter during the fire evacuation drill
Students also participated in a disaster reporting session, during which students were given a key word on a type of hazard and were instructed to use their creativity and photography skills learnt during the session to represent the key word in a picture. Throughout the camp, the students continued to capture key lessons learnt which they presented as part of the disaster reporting competition.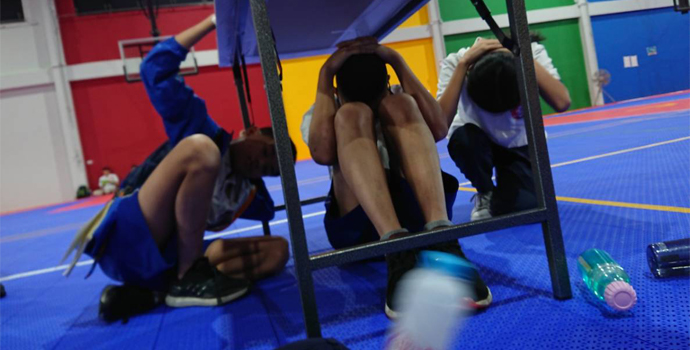 A group of students given the word "earthquake" use their creativity and minimal props to capture the key word in a picture during the disaster reporting session
Through participating in the camp and capturing key moments, students were encouraged to pass on lesson learned to family and friends, to assist in building awareness and resilience of their communities.
The camp by Asian Disaster Preparedness Center was supported by the Japan Foundation; Ruamkatunyu Foundation; the Department of Disaster Prevention and Mitigation (DDPM) of Thailand; instructors from the Community Action for Disaster Response (CADRE), under the Program for Enhancement of Emergency Response (PEER); the Fire and Rescue Department of Bangkok Metropolitan Administration; and Wat Thanon School, Angthong Province.