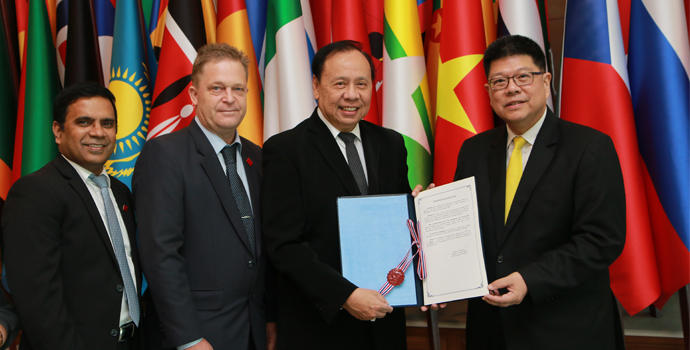 Mr. Aslam Perwaiz, ADPC's Deputy Executive Director, Mr. Hans Guttman, ADPC's Executive Director, and Dr. Bhichit Rattakul, Special Advisor to ADPC, received the instrument of ratification of the Charter
Following the deposit of the Instrument of Ratification by the Kingdom of Thailand, the Charter of Asian Disaster Preparedness Center (ADPC) has entered into force enabling it to function as an Intergovernmental organization.
On behalf of ADPC, Dr. Bhichit Rattakul, Secretary-General and Special Advisor to ADPC, received the Instrument of Ratification of the Charter from Mr. Thani Thongphakdi, Deputy Permanent Secretary, Ministry of Foreign Affairs, the Kingdom of Thailand.
Other member countries have already ratified the ADPC's Charter, which was signed in 2005, by nine founding member states. Member countries include Bangladesh, China, Cambodia, India, Nepal, Pakistan, the Philippines, Sri Lanka, and Thailand.
The Asian Disaster Preparedness Center (ADPC) was established in 1986 to address the capacity building needs on disaster risk reduction (DRR) in Asia and the Pacific. It evolved over the years to become the leading regional resource center on disaster resilience for the region.
The ADPC's Board of Trustees ─ an aggregate of member state's representatives ─ is the main body to providing strategic guidance and overseeing that its operations are in line with its Charter. The new set up is expected to open up more avenues for ADPC to take forward the agenda of disaster risk reduction, in the region, through networking, knowledge exchange and collaborations.
ADPC's current status would also be helpful in strengthening the Regional Consultative Committee Disaster Management (RCC) ─ established by 26 countries within Asia and the Pacific; the RCC meeting brings National Disaster Management Organizations (NDMOs) of member countries together regularly to discuss the implementation of disaster and climate risk management initiatives.
While paying special attention to cross-cutting issues, such as gender and diversity, regional and transboundary cooperation as well as poverty and livelihoods, ADPC will continue harnessing support for its strategic themes of risk governance, urban resilience, climate resilience, health risk management, preparedness for response and resilient recovery.